Main page: Thai locations where I didn't find Nepenthes


Thailand 2007
(January 12 - March 12)
By 2007, I narrow down the areas to check. So I either try to find new locations around the ones that I already know, or I try to reach locations where Nepenthes do grow but that remain unreachable.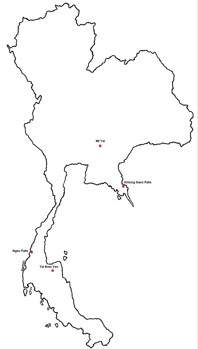 Mt Yai.
On July 15, 2004, Heiko Rischer sends me a message: "Ok, it's a confusing rumour about those plants. When I was at Mt Yai in 2000, I didn't find them, but I didn't ask the rangers at that time. The information I got later from a Thai source is as follows: 'The forest guard chief whom I talked with on the phone the other day confirmed its whereabouts, but his officers said they have never come across the plants in their responsible area. The last target is Mt Samor Poon, which would take three days to trek up to. It's said to be 809 m above sea level, and a picture of Nepenthes sp. was taken from this place. I will definitely do this some time'. So, if there really is Nepenthes on Mt Yai, it could be anything, even N. mirabilis, but if the altitude is correct, I would rather doubt it. The original information I had was from a professional botanist who had been there many years before. He couldn't recall the exact location, but he also said it was on a mountain".
2007: Mt Samor Poon is in the south of the park, so the best entrance is the one at Prachinburi (the park extends over three different provinces). From Prachinburi city, I get to the park entrance with two lifts. I pay the 200 baht fee and I get a lift to the headquarters. Here they speak English because it's a tourist place, with restaurants, cafes, and bungalows for 3000 baht. I talk with the chief ranger, Hongsepijarn Buakhai. He has good English, and thank God because I have to explain Rischer's story. He understands, he's very available and he tries to help. He calls every ranger by radio, but they all reply that they never saw pitcher plants in their area. Someone says a girl saw it on Mt Samor Poon. He calls the girl, but her mobile is switched off. He tries until sunset, but nothing to do. I describe the habitat of N. smilesii, and he confirms that Mt Samor Poon matches the description perfectly. We both hope we can arrange a trip for the following day. I start looking around to see if I can find a comfortable corner to spend the night. Around 9 pm, Hongse tells me that he found a place where I can sleep, even if it's empty, there's just a wooden bed, no mattress. Better than a bench! I wake up very early. A deer is eating plants just out of my window, and now and then he looks at me, also because the window has no glass, it's just a square hole. A lovely animal. After breakfast - rice, basil, pork, very spicy - I go to see Hongse. Meanwhile, another ranger explains to me that for Mt Samor Poon it's 4 hours to go up and a bit less to get down, plus a little bit to do by car. So either you leave early in the morning and you come back in the evening, or you leave around lunchtime and you sleep on the mountain. And here comes Hongse. He says the girl still doesn't reply, but there's another girl who says she saw the plant on Mt Samor Poon. He asks if I want to go, but if I want to go now, I'll have to sleep on the mountain, because it's 10 am, and I should also go 4 km from the headquarters and talk with the rangers near Mt Samor Poon. He says I have to pay the rangers, and I pay them less if we leave in the early morning, because I just have to pay for one meal for two people (versus more people, more food, and sleeping facilities for everybody?). He says he has no idea how much they would ask. So, instead of wasting one more day with an uncertain outcome, I resolve to get back to him when we know more about day, time, prices, and whether the rangers are available or not. Hongse also calls Pang Sida, the park just south of Mt Yay, but they say they have never seen pitcher plants there.
Weeks later I'm in Nakhon Ratchasima, north of Mt Yai, it's 6:30 pm. I call Hongse, he's happy to hear me. I ask if he knows more and if he can arrange a trip to Mt Samor Poon, and he asks me to call him back in an hour. One hour later, he explains that he asked the rangers, but they said it's going to take two days, it's the dry season and so there are no pitcher plants, it can be dangerous, and they have to cook on the mountain and thus they need to get prepared for that. Hongse is a friend and he has been kind and nice to me all along, so I don't try to push back, I can see that probably the rangers don't feel like going up there and I prefer not to insist. I again thank him for all the help and... maybe we'll do that some other time. At this point, I'm in Nakhon Ratchasima, just arrived by bus, with my backpacks, along the highway, in front of the phone booth, it's 8 pm. I look for a cheap hotel but I get sent from a 1000 baht to another. I go back towards the bus station, planning to sleep there, on the seats, and leave for the next destination in the early morning like I often do. I'm exhausted, sad, disheartened, angry and fed up. Before I cross the highway to reach the bus station, I sit on the ground and think about life. I hope an angel can come and save me. Right there and right then, I hear a soft and kind voice: "Hallooo". It's a guy who's slowly riding a mountain bike. His arms are covered with tattoos. He can speak English. He's slow-moving, slow-talking, and very patient. I tell him all you have just read. And just doing that makes me feel better. He says he did see the pitcher plants at Mt Yai, but not on Mt Samor Poon, which he doesn't even know, but at the Haeo Suwat Falls. Both on the mountain, where the falls start, and at the base, where the falls hit the ground. I thank him, we exchange email addresses, in case he goes back to Mt Yai and he takes pictures, and I go to eat and sleep at the bus station.
2023: Where the park is and how I got there are pretty straightforward. No Nepenthes have been reported from Mt Yai so far. If they grow at Haeo Suwat, that's N. mirabilis for sure. Oh, in the movie

The Beach

, DiCaprio jumps from this waterfall. If there are Nepenthes on Mt Samor Poon, that could still be N. mirabilis, or maybe it was all a misunderstanding. I remained in occasional contact with the guy met that night, no names involved. It turns out he found an angel in me too because at the time he was coming out of a serious heroin problem and it was nice to find a friend in such an unlikely moment and place. More about other carnivorous plants at Mt Yai here. The busy headquarters are well served by Street View and can be found at 14 26.337, 101 22.329. Incredibly, I took a picture of my room: photo. On my super-specific maps, Mt Samor Poon is given at about 14 16.014, 101 24.002 (peak?), but that's all deep forest, while there's a massive plateau with great habitats just next to it, at 14 15.142, 101 25.362. About my strange encounter, I remember a bridge on my right, I remember the side of the road, I more or less remember how the road looked, and given the distance from the bus station, I have enough certainties about the spot at 14 59.408, 102 5.854: photo.


Ngao Falls. I already know this is going to be N. mirabilis, there are lots of herbarium specimens collected here, but I also hope to find the rare U. corynephora, also reported from the waterfall. From Ranong, I quickly get there with a songthaew. Along the unpaved road to the entrance, I spot some patches of Melastomataceae and Gleicheniaceae, so I get inside the thicker vegetation to see if I can find N. mirabilis too, and I do. For sure, nobody stops along the road and looks among the bushes, so everybody just sees the plants at the famous waterfall. At the checkpoint, I pay 200 baht and proceed. At the visitor centre, no photos of Utricularia, or anything to eat, or food booths, there's nothing, and actually, there's nobody, anywhere. I go to see the waterfall. It's an actual, vertical waterfall, not one of those made out of levels, where people relax and sit around. This is an almost vertical wall, with water flowing from five hundred metres above. The carnivorous plants start at the base already, with U. bosminifera in the rock crevices and N. mirabilis along the sides. I climb on the rocks, clinging to branches and trees until I reach a point where falling becomes too likely and it would kill me. No U. corynephora, too bad. But N. mirabilis keeps going, God knows to what altitude.
2023: The top of the waterfall, at 500-600 m, is probably where the really interesting habitats begin, with clearings, exposed rocks, and low vegetation of various colours, but I don't know if it's possible to get there and if there are trails: photo. The national park takes its name from the waterfall, but the whole thing is huge: photo. And with plenty of N. mirabilis colonies for sure, including another well-known one at the so-called Ranong Canyon. This is the base of the waterfall: photo. It gets narrower the more you go up. The few green blotches that you see along the slope include N. mirabilis. Quite a good reserve of water they have there.

Tai Rom Yen. I'm in Surat Thani, looking for N. suratensis. The altitude on the herbarium specimen from Kanchanadit is 1.5 m, so I conclude that must necessarily be 1500 m. After searching online for a while, I find Mt Nay (?), in the Tai Rom Yen National Park. The peak is at 1535 m, but I'm not sure it's in the Kanchanadit district. After looking for U. punctata at the Khun Thale lake (no success), I go to Tai Rom Yen by bus. There are just picnic photos, about fifty: mounting tents, lunch in front of the fire, everybody smiling. The staff makes me talk by phone with a lady who confirms that the mountain is not in Kanchanadit. I leave a ticket, a reminder for anybody who might find pitcher plants in the park. Then I go back to Surat Thani city and I spend another hour online looking for clues.
2023: This is a key moment, and it's not about Tai Rom Yen. By the way, in my notes, the name of the mountain is not very clear, that's why I put the question mark. There's a Mt Nong in Tai Rom Yen, maybe it's that, maybe not. Mt Nag? Mt Noy? Anyway, the point is that the altitude of the specimen is not 1500 m. After that final hour online, and another hour walking in circles, I understood that it's not 1.5, it's C. 5, where C stands for "circa", or "about" in Latin. Kerr's terrible calligraphy made that look like a 1, it was just a vertical line. Historians refer to that as the Great Illumination, because all the other locations indicated by Kerr, and that I couldn't find, acquired a totally new meaning. The guesthouse that saw the Great Illumination was The Web, at 9 8.679, 99 19.761, but it's not there anymore. Where did I sleep in the following years? Thai Rung Ruang, 9 8.776, 99 19.763, nice and cheap. I discussed this group of parks on the 2006 page (
Si Khit Falls and Mt Nan
), here is the map: photo. If you go there, the visitor centre is at 8 51.789, 99 28.727.

Khlong Kaeo Falls. I'm in Trat, looking for some way to reach Mt Kuap, where N. chang was collected in 1929, at CIRCA 600 m. At the Chang Isl National Park, my friend Ning told me that I should ask at the Khlong Kaeo Falls National Park, which is on the same chain of mountains as Mt Kuap. From Trat city, I reach the village close to Khlong Kaeo by songthaew with 60 baht. From there, a guy gives me a lift with his motorbike. It turns out he works at Khlong Kaeo. At the offices, I ask if I can talk with anybody in charge. The person should arrive at 3:30, but meanwhile, I see a great, detailed map of the area. While the staff guys discuss in Thai about Mt Kuap (never heard of before) and pitcher plants, I examine the map. I know latitude and longitude, so I do find Mt Kuap, but there's no name, just the altitude I already know, 1271 m. Unfortunately, it's just a few kilometres south of the park's boundary, it's out of their jurisdiction. I call Ning and I ask her if she can ask them if they know of any road that goes to the mountain I'm pointing to on the map. They suggest that I relax, that I sleep there, and the following day someone will bring me to Mt Kuap. Yeah, sure. A girl from the staff finally manages to get in touch with the person in charge by phone, and he explains that the mountain is
out of their jurisdiction, so I should ask the Forestry Office in Trat.
2023: In my book, the story goes on for many pages, before and after. And I did go to the Forestry Office. This is just the little part about my experience with the nice guys and girls at Khlong Kaeo. Overall, the park is just north of the northernmost N. chang locations. That's not enough to exclude the presence of the species, but its habitats are almost impossible to spot from satellite, no Nepenthes have been reported from Khlong Kaeo, and there are no trails to its mountains because they are off limits due to the presence of land mines. The waterfall that gives the name to the park is the only area that can be visited. Here is the park from satellite: photo. The red pin behind "Kaeo" is on the offices, at 12 37.103, 102 34.670: photo. The village nearby is Bo Rai, so I got a lift on the road at 12 34.360, 102 32.003. I remember that entering the park I was impressed by some big metal structures, with net walls and barbed wire, it was like going to a prison or an army base, but I can't see them now: photo. Either they are further along the road (not on Street View), or they have been removed. Needless to say, in Trat, I always stay at Pop, 12 14.517, 102 30.645.